Biometric Range
2MP HD Face Recognition Terminal with Touch Screen
MFR02TS
In stock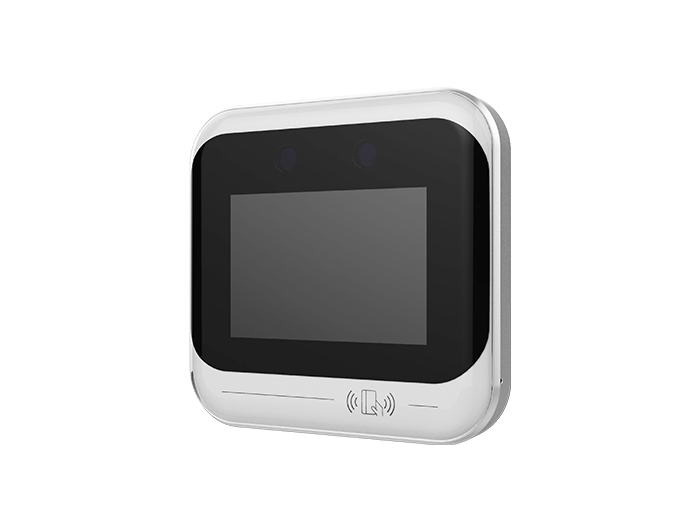 Product description
The Genie MFR02TS is a compact standalone 3.5" LCD touch screen facial recognition access control terminal. It features dual 2mp high definition cameras with an embedded high precision facial recognition algorithm, supports weigand data and offers multiple door opening configurations and combinations including multi factor modes. The device supports an easy to use web browser based configuration and database management system.
---
Key features
3.5 inch LCD touch screen
Max. resolution: 2MP (1920×1080)
Face liveness detection technology distinguishing real faces from non-real face spoof attacks
Highly accurate face recognition using deep learning algorithm
Stand-alone device, ready for networking
Communication via wired network (TCP/TP) and Wi-Fi
Supports multiple door opening modes (card, card + password, card + face recognition, etc.)
Intelligent Analysis: video exception detection, face detection, face capture, face match, etc.
---
Specification
Image Sensor

1/2.8" Progressive Scan CMOS

Electronic Shutter

1s ~ 1/100000s

Minimum llumination

0 Lux

Lens

2MP dual lens; f=3.6mm @F2.4
Vertical horizontal field of view: approx. 65°,
horizontal field of view: approx. 50°

Face Detection

Pupil distance of a facial image over 20 pixel can be detected

Face Capture

Outputting the optimal face image by precise detecting, tracing, capturing, scoring and screening the moving faces

Original Image Capturing

Supports original image capturing and self-defined overlaid information (like device ID, time, etc.)

Face Picture Database

3000

Face Comparison Storage

10,000

Database Management

Face pictures can be added, modified or deleted in the face database.

Face Picture Adding

Adding face pictures through WEB and face album manager tool

External Face Picture Enrolment

Size: less than70KB, Format: JPG/JPEG

Face Comparison Alarm

Face detection alarm, allow list, block list and stranger alarm

Intelligent Light Compensation

Built-in high efficient white light LEDs

3.5" Touch Screen

Resolution: 320 × (RGB)v 480

Audio

Built-in MIC×1, built-in speaker×1

Wiegand Interface

Yes (Wiegand input or output configurable)

Wi-Fi

Supports 2.4G Wi-Fi function

Remote Monitoring

Web client/CMS remote control

Online Connection

Supports simultaneous monitoring for up to 3 users. Supports multi-stream real time transmission

Network Protocol

UDP, IPv4, IPv6, DHCP, NTP, RTSP, PPPoE, DDNS, SMTP, FTP, 802.1x, UPnP, HTTPS, HTTP

Interface Protocol

ONVIF-GB-T/28181-2016

Storage

Network remote storage

Smart Alarm

Motion detection

Intelligent Analytics

Face detection, face capture, face match, scene change detection, video blur detection, video colour
cast detection

General Function

Watermark, IP address filtering, video mask, heartbeat, illegal login, image distortion correction

White Light Distance

0.3-0.5m soft light

Video Compression

H.265+/H.265/ H.264+/H.264/MJPEG

H.264 Compression Standard

Baseline Profile/Main Profile/High Profile

Resolution

1080p (1920×1080), 720p (1280×720), D1

Main Stream

50Hz / 60Hz: 1920×1080/1280×720 (1~15fps)

Sub Stream

50Hz/60Hz: 720p / D1 (1~15fps)

Third Stream

50Hz/60Hz: D1 (1~15fps)

Image Setting

Saturation, hue, brightness, contrast, wide dynamic range, sharpness, NR, etc., Adjustable through client or web browser

Audio Compression

G711A/U

Environmental Protection

RoHS 2.0, REACH, WEEE, directive94/62/EC

Working Environment

-20°C~50°C, Humidity: Less than 95% (Non-condensing)

Dimensions

118 × 114 × 25.1 mm

Weight (net)

Approx. 300g

Installation

Wall mounting, Standing on desktop
---
Software