H.265 64 Channel NVR 8M@25fps 2xHDMI OUT,AUDIO OUT,ALARMS,8xHDD Bays
WNVR8645
In stock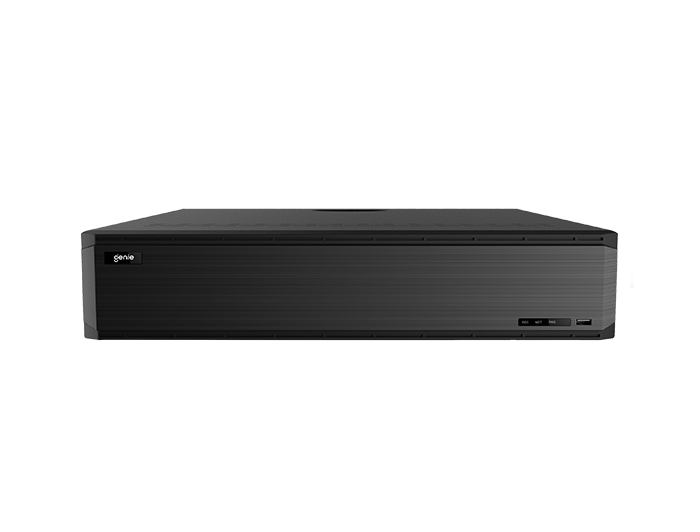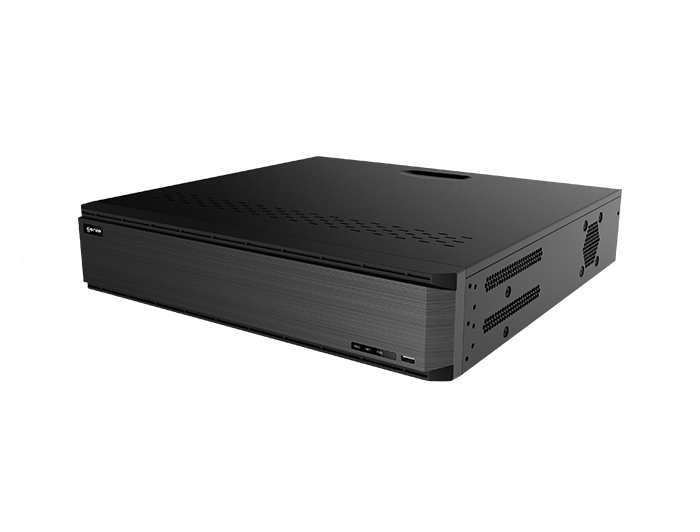 Product description
The Genie WNVR8645 is a 64 channel ultra-high definition 4K network video recorder. network video recorder with 8 HDD bays. The WNVR8645 features up to 16 channel simultaneous playback as well as two independently configurable gigabit ethernet Lan ports. The NVR can support the latest H.265 and H.264 encoding streams. The WNVR8645 NVR has a dedicated iPhone and Android App (Super Live Plus) and are supplied with free Windows / MAC CMS software. 
---
Key features
Supports 64 CH 12MP, 8MP, 6MP, 5MP, 4MP, 3MP, 1080p, 720p input
H.265S, H.265+, H.265, H.254 high profile compression
Intuitive and user-friendly Graphic User Interface (GUI), Windows style operation by mouse
Multi-mode recording: Manual / Timed / Motion / Sensor / POS / AI recording and Smart search
Supports POS information overlay on live view and playback Playback : 16 CH simultaneous playback
Search : Time slice, Time, Event, Tag, Smart search
Authorisation management, log view and device status view
Pentaplex : Preview, record, playback, backup and remote access
DHCP, DDNS, PPPoE network protocol
Multi-user online simultaneously
Remote control via Web Client or CMS: Preview, playback, backup, PTZ and configuration
Supports RAID0, RAID1, RAID5, RAID6, RAID10
Express and flexible backup via USB, network and so on
Dual stream technology for local storage with high definition, remote network transmission and remote surveillance with mobile device
4K UHD output at up to 60Hz Supports PTZ preset and auto cruise, up to 255 presets and 8 cruises
Supports NAT function and QR Code scanning by mobile phones
Powerful iOS and Android smartphone and tablet surveillance with push notifications
Supports multiple VCA (Video Content Analytics) events, such as object abandoned/ missing, region intrusion, tripwire, video exception, etc.
---
Specification
Incoming Bandwidth

320Mbps

Outgoing Bandwidth

320Mbps

Network Input Resolution

12MP / 8MP / 6MP / 5MP / 4MP / 3MP / 1080p / 1280×1024 / 960p / 720p / 960H / D1 / CIF

Multi-Screen Display

1 / 4 / 6 / 8 / 9 / 13 / 16 / 25 / 32 / 36 / 64

Network Input

64 CH IPC audio input

Record Stream

Dual stream recording

Resolution

12MP @ 20fps, 8MP / 6MP / 5MP / 4MP / 3MP / 1080p / 1280×1024 / 960p / 720p / 960H / D1 / CIF @ 30fps (NTSC) / 25fps (PAL)

Mode

Manual / Timed / Motion / Sensor / POS / AI recording

Simultaneous Playback

Max 16 CH

Search

Time slice / Time / Event / Tag / Smart search

Smart Search

Highlighted colour to display the camera record in a certain period of time, different colours refer to different record events.

Function

Play, Pause, FF, FB, Digital Zoom, etc.

Decoding Capability

1CH 12MP / 4 CH 5MP / 9 CH 720p / 16CH 720p (Live View / Playback)

Alarm Mode

Manual, Sensor, Motion, Exception, Smart events

Input

8 CH local alarm input; supports IPC alarm input

Triggering

Record, Snap, Preset, E-mail, etc.

Video Structure Analaysis

Human / Vehicle Classification: Yes

Network Interface

RJ45 10 / 100 / 1000 Mbps x 2

Protocol

TCP / IP, PPPoE, DHCP, DNS, DDNS, UPnP, NTP, SMTP, HTTP, HTTPs, 802.1x, ONVIF, etc.

Client Connection

Maximum 20 users access

USB Port

Yes (full-duplex), connectors for PTZ and keyboard

RS485

USB2.0 x 2, USB3.0 x 1

Local Backup

USB stick, USB mobile HDD

Storage

HDD: SATA×8, up to 8TB per HDD; E-SATA×2
RAID: RAID0, RAID1, RAID5, RAID6, RAID10

Remote Monitoring

Immix: Compatible with Immix via RTSP only (2-way audio not supported)
Sentinel: Yes, Firmware 1.1.0 or later

Fisheye

Supports fisheye dewarping via Web Client and mobile App

Consumption

≤ 30W (without HDD)

Working Conditions

-10~50°C, 10%~90% humidity

Environmental Protection

Complies with Directive EU RoHS, REACH and WEEE

Dimensions

445 x 436 x 90 mm
---
Downloads
---
Software